Networks of Wellbeing - Veteran's Support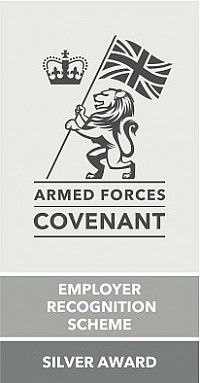 Armed Forces Covenant
Networks of Wellbeing Ltd (NoW) recognises the value Serving Personnel - both Regular and Reservists; Veterans; Cadets; and Military Families contribute to our communities, businesses and country and have pledged our support to the Armed Forces Covenant.  
I am delighted to advise that Networks of Wellbeing (NoW) has been awarded the Defence Employer Recognition Scheme Silver Award for 2022.  Details are contained within the links below.

https://www.facebook.com/HRFCAhttps://www.hrfca.co.uk/public-news/ers-silver-awards-2022NoW is both proud and honoured to receive the ERS Silver Award from the Ministry of Defence for the support we provide to those who give, and have given, so much to their country throughout their time in the services.  Receiving the Silver Award for doing something we care deeply about means a great deal to every member of our team.
In August 2020 we were delighted to receive our Bronze Award from the Defence Employer Recognition Scheme.

At NoW, our services are open to everyone - with a specific initiative liked to Veterans, their families or carers (see below).  We do however recognise that there are times when a more specialist approach may be needed and, with that in mind, we have included this signposting page on our website, listing a range of organisations who can provide support and guidance to veterans and their families, and we hope that this information is of use to you.
Thank you for your ongoing support of our work.

______________________________________________________
Veteran's Pathways to Wellbeing - NoW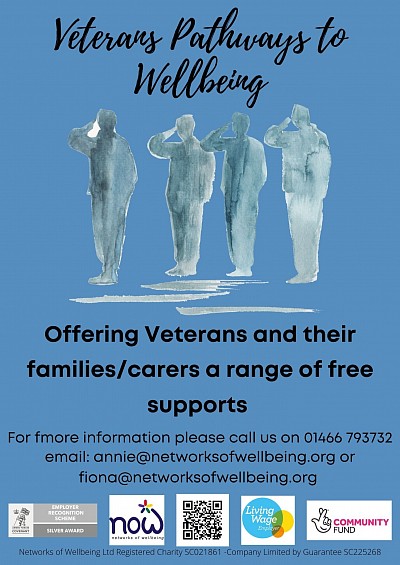 If you are a Veteran, a young Veteran, or a family member or carer of a Veteran, and you feel that you could use a little support, then our 'Veterans Pathways for Wellbeing' project may be something to consider. 
Our staff team and Board of Directors include veterans and family members of veterans, and we are grateful to the Armed Forces Covenant Fund Trust and to the Scottish Veterans Fund who have made it possible for us to offer this service.
Veterans Support
______________________________________________________
Veterans Breakfasts
______________________________________________________
Armed Services Advice Project (ASAP) Project - Part of Citizens Advice Project set up to provide independent and impartial information and advice to the Armed Forces Community (AFC) in Scotland.
Blind Veterans UK - Provides support to anyone who has served in the Armed Forces, or who has done National Service, and who is now living with significant sight loss.
Career Transition Partnership (CTP) - Provides resettlement services for those leaving the Royal Navy, Army, Royal Air Force and Marines. Regardless of time served, all members of the Armed Forces can benefit from CTP support when leaving Service.

Combat Stress - Provides specialist psychological treatment and welfare support for veterans.
Defence Medical Welfare Service - Provides a high-quality medical welfare service to those who serve the nation and the community when they are in the patient care pathway, in order to deliver capability and productivity.
Erskine - Caring for Veterans since 1916. As Scotland's foremost provider of care for veterans and their spouses, Erskine offers unrivalled nursing, residential, respite and dementia care in our four homes throughout Scotland for UK veterans.
Help for Heroes - Provides lifetime support for the Armed Forces Community and their families.
Horseback UK - HorseBack UK, based in Aberdeenshire, offers courses in Horsemanship as an aid to recovery for veterans who have suffered mental and physical trauma.
Icarus Online - Offers a wide range of conventional therapies and complimentary therapies, in any required combination, immediately and in real time 24/7 to help Service personnel and ex-service personnel to recover from the effects of Military Trauma, Post Traumatic Stress and any associated conditions.
Legion Scotland (Royal British Legion Scotland) - A comradeship and welfare network helping ex-servicemen and women of all ages adapt to civilian life by providing support in the community.
Military Mental Health Helpline - Information on a new helpline to help with mental health for military personnel.
Moray and Highland - Information on local services and the assistance available to the Armed Forces community (including schools and learning, employment and training, money and financial advice, health, wellbeing and housing).
Officers Association Scotland - Provides employment and welfare support to those who have held a commission in the UK Armed Forces and their families and dependants.
Pathfinder - The original resettlement magazine, Dedicated to providing information and opportunities for Service Personnel and Veterans.
Poppy Scotland - Provides life-changing support to our AFC throughout Scotland.
RAFA - A membership organisation and registered charity that provides welfare support to the RAF Family.
RFEA - The Forces Employment Charity provides life-long, life-changing support, jobs and training opportunities to service leavers and veterans.
SACRO Veterans Mentoring Service - Set up to provide intensive close support for veterans in or on the periphery of the criminal justice system.
Scottish War Blinded - Gives free support to ex-service men and women, no matter if they lost their sight during or after service.
SSAFA - The Armed Forces charity has a Scottish network of trained volunteers who offer practical and emotional support to anyone (of any age or military background) who's ever served in the UK Armed Forces.
Turn2Us - If you are a serving member of the armed forces or a veteran, there may be information here around benefits, grants or other financial support available to you and your family.
Venture Trust Positive Futures - A personal development programme which provides specialist support to military veterans struggling with transition to civilian life.
Veterans Assist Scotland - A resource website linked to Veterans Scotland which provides further information about services for the AFC.
Veterans First Point - Provides free advice and support to those who have ever served in the HM Armed Forces, in any capacity for any length of time, whatever their needs may be.
Veterans Gateway - Providing a single point of contact for veterans seeking advice and support.
Veterans Scotland - Provides information about services available to the AFC. The website is a hub for links to numerous organisations.
Veterans UK - Part of the Ministry of Defence, Veterans UK administers the armed forces pension schemes and compensation payments for those injured or bereaved through service.
Walking with the Wounded - Supports a pathway for vulnerable veterans to re-integrate back into society and sustain their independence. At the heart of this journey is employment.